Photo courtesy of NHL.com
The Buffalo Sabres have had a very bumpy history. Although making the playoffs 29 times, since their establishment in 1970, they have never won the Stanley Cup. Sabres fans have been left disappointed for five decades, and the future seems uncertain as to when they will make the playoffs again or if they will ever get their hands on hockey's most coveted prize. However, although they have never won the Cup, the Buffalo Sabres have bread some of the most talented hockey players of all time.
---
Center: Gilbert Perrault
Throughout his seventeen year NHL career, Gilbert Perreault accumulated over 1,300 points in just under 1,200 games. His accolades are not as deep as some of the others coming up on the lineup, but he still won a Calder Trophy and a Lady Byng Trophy. His play was so good, that in the year 1990, Gilbert Perreault was inducted into the Buffalo Sabres Hall of Fame; and in 1991, he was inducted into the Hockey Hall of Fame.
Honorable Mentions: Jack Eichel, Dale Hawerchuk, Don Luce
---
Right Wing: Alexander Mogilny
Alexander Mogilny, who was completely snubbed from the Hockey Hall of Fame, had an incredible career. Being the first Soviet defector to play in the NHL puts a lot of pressure on oneself, but he did it with poise and excellence. As soon as he made it to North America, he made a big impact. Throughout his 16 NHL seasons, he recorded over 1,000 points and over a point per game average. He made it to the All Star Game five times, won a Stanley Cup in 2000 with the New Jersey Devils, and won multiple international gold medals.
Honorable Mentions: Danny Gare, Rene Robert, Mike Foligno
---
Left Wing: Rick Martin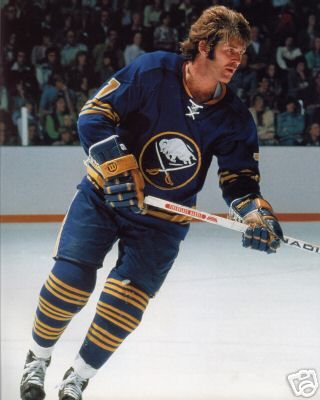 The late Rick Martin had a spectacular NHL career. In eleven seasons, he scored 701 points in 685 games. Although he has not played in as lengthy of a career as any of the other players in this lineup, he has sure made the most of it. In his first seven seasons in the NHL, he was selected into the All Star Game every single year. This gave Martin huge recognition throughout the league and ultimately lead to his induction into the Buffalo Sabres Hall of Fame.
Honorable Mentions: Craig Ramsay, Dave Andreychuk, Thomas Vanek
---
Defenseman (1): Phil Housley
When you think of the Buffalo Sabres, you have got to think about Phil Housley. Housley made an amazing career for himself from 1982 to 2003. In 1,495 career regular season games, he put up a whopping 1,232 points. The defenseman was a seven time All Star; won multiple international medals; and was inducted into the Buffalo Sabres, IIHF, Hockey, and U.S. Hockey Hall of Fames.
Defenseman (2): Mike Ramsey
Although not as much of an offensive producer as ,fellow defenseman, Phil Housley, Mike Ramsey was still a dominant player nonetheless. Ramsey played in 18 seasons in the NHL, and put up 345 points in 1,070 games. In the year 1980, Ramsey was part of the Miracle U.S. Olympic team that won the gold medal and upset the Soviet Union in gold medal game qualifier. In 2002, Ramsey was inducted into both the Buffalo Sabres and U.S. Hockey Hall of Fames.
Honorable Mentions: Jim Schoenfeld, Bill Hajt, Alexei Zhitnik
---
Goaltender: Dominic Hasek
The Czech stud is arguably the best goaltender of all time. In his 16 year career, he finished with an outstanding 2.20 goals against average and a .922 save percentage. Hasek won multiple bronze, silver, and gold medals in numerous international feats. He is a six time Vezina Trophy winner; a three time Jennings Trophy winner (Lowest goals against in the league); and won the Hart Trophy, Tedd Lindsay Award, and the Stanley Cup two times each (Both Stanley Cups being won with the Detroit Red Wings). After he retired, Hasek was nominated into both the IIHF and Hockey Hall of Fames in the year 2015.
Honorable Mentions: Ryan Miller, Tom Barrasso, Don Edwards